On August 17, SOHO China Co., Ltd. (hereinafter referred to as "SOHO China" or "Company", stock code: HK410) released the company's unaudited annual interim results for 2018.
During the period, operating profit (excluding the appreciation of investment properties) was approximately RMB 1.53 billion, representing an increase of approximately 144% year-on-year. Rental income was approximately RMB 848 million, excluding the rental impact of the sold Hongkou SOHO and Lingkong SOHO, up 17% year-on-year. The average occupancy rate of investment properties is approximately 97%.
1. The net profit has fallen sharply and the operating conditions are actually good.
SOHO China's balance sheet for the past six months is very healthy, with net borrowings accounting for 43% of the company's shareholders' equity, debt financing costs as low as 4.4%, and offshore liabilities accounting for only about 4% of total liabilities. This also means that there is almost no foreign exchange risk in the environment where the company's domestic and foreign exchange rates change.
SOHO China's net profit for the first half of this year was approximately RMB 1.093 billion, while net profit for the first half of 2017 was approximately RMB 3.9 billion, a significant year-on-year decline.
Xu Ling, director of SOHO China's financial and investor relations, explained that the two projects of Hongkou SOHO and Lingkong SOHO were sold last year, and the company re-evaluated all the investment properties held in the first half of 2017. Appreciation of 6.155 billion yuan.
The direct impact of the sharp decline in net profit year-on-year was that SOHO China fell 8% on the day the results were released. Xu Ling said that if we open up the fog cloud to see SOHO China's operating conditions are good, property rents rose by 17% year-on-year, and the re-signed rents rose more than 25% from the Old Testament.
Pan Shiyi, chairman and executive director of SOHO China, said that the increase in stocks is normal. SOHO China only needs to do a good job in the house, and the market is difficult to regulate.
For SOHO China, whether it is land acquisition or stock assets, Pan Shiyi gave the answer that as long as the price is cheap and cost-effective, mainly depends on the market, SOHO China's capital cost is very low, and there is a lot of money on the books.
2, SOHO 3Q: good reputation and healthy development
At the performance conference, Pan Shiyi also pointed out the future development plan of SOHO 3Q.
Pan Shiyi said that starting from June, SOHO 3Q should break the previous model of renting a house and making it to customers after 3Q, and then look for large and stable customers. Customers need to do it again, and they plan to develop 3Q customization in the future. service.
SOHO 3Q has now expanded to cities outside Beijing and Shanghai. It currently has 31 centers in 7 cities including Beijing, Shanghai, Hangzhou, Nanjing, Shenzhen, Chengdu and Chongqing, with more than 30,000 stations.
Pan Shiyi said that the cities selected by 3Q should meet four criteria: large GDP, high GDP growth rate, high per capita GDP, and high GDP per square kilometer. Through these four indicators, SOHO selected ten developable cities for inspection, while other cities Pan Shiyi said that it was still a little worse.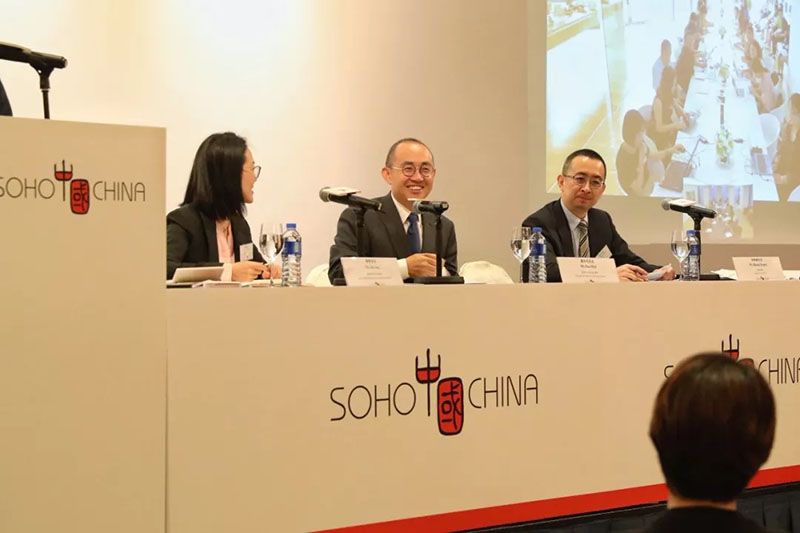 At the same time, Pan Shiyi clearly stated at the performance conference that SOHO 3Q will not merge and acquire other shared office space to expand the scale. He said that SOHO 3Q should be done according to its own ideas, product style and management mode, to ensure good reputation and healthy development is the most important.
In addition, Pan Shiyi also responded to whether the auction lease is a question of marketing means, saying that the open bidding is to openly and transparently, prevent corruption, improve efficiency, and through such an approach, the rent level has reached a new high. In the recent auction lease, the rent of the Wangjing office building per square meter per day exceeded 10 yuan, and the rent of the shop reached 29 yuan.
Regarding whether SOHO 3Q will be listed when it will be listed, Pan Shiyi said that everything depends on the market, and the capital market is listed on the market. It is said that the mainland market is already large enough, and Hong Kong and overseas markets are not considered for the time being.
For the future development of SOHO 3Q, Xu Ling said that the first step of 3Q is to first scale up. And gradually electronically the most basic things, such as electronic signatures, electronic invoices, etc., and is expected to achieve full electronic invoices at the end of August.
3, house prices fell 50%, we are still alive
In response to questions that shareholders are not enjoying dividends, Pan Shiyi responded as follows:
"I have been thinking, if China's housing prices fall 20%, we are still alive, I think we are alive, but many real estate companies do not exist. If we fall 50%, we take a balance sheet to see if Asset prices and house prices fell 50%, we can still live, we are still alive, but more real estate companies do not exist. It is success to continue to develop our experience and market management."